BNSF Railway announced its 2021 capital investment plan of $2.99 billion USD. This year's capital plan focuses on projects that support the company's growth and efficiency objectives, while maintaining a strong and reliable railroad.
"Every year through our capital plan, we work to ensure we are able to continue to operate a safe and efficient rail network, provide our customers with the level of service they have come to expect from BNSF as well as position ourselves for future growth opportunities," said Katie Farmer, president and CEO.
The largest component of this year's capital plan will be to replace and maintain BNSF's core network and related assets, similar to last year's $3.08 billion capital program. Maintaining the railroad results in fewer unscheduled service outages that can slow down the rail network and reduce capacity.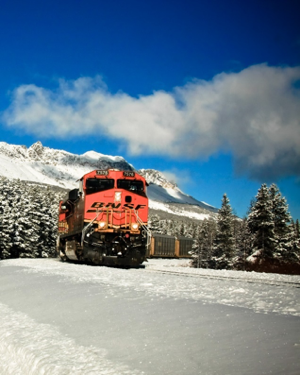 The 2021 plan's maintenance component is $2.41 billion and includes projects that replace and upgrade rail and track infrastructure like ballast and rail ties—the main components for the tracks on which BNSF trains operate—and maintain its rolling stock. This includes nearly 11,000 miles of track surfacing and/or undercutting work and the replacement of 428 miles of rail and approximately 2.6 million rail ties. Read more here!
Safety Check: How to Stay Safe Around Train Tracks
Canada's Freight Railways: Moving the Economy
Since the birth of Canada's first railway back in 1836, rail has been fundamental to our nation's prosperity. But what started out as a 26-kilometre rail line has expanded into an intricate network of almost 43,000 kilometres of track, and one of the most efficient, safe and cost-effective transportation systems in the world. Today, around 70 per cent of all intercity surface freight and half of Canada's exports are moved by rail.
Canada's freight railways move over 900,000 tonnes of goods every day, 365 days a year—delivering essential products to customers across Canada and around the globe. Transporting everything from the cars we drive, to the food we eat and the fuel we use to heat our homes, Canada's freight rail system is crucial to our lives and our economy.
Whether our railways are moving bulk, industrial or consumer goods, we are committed to transporting products efficiently, safely, cost-effectively and sustainably. In fact, a locomotive can pull one tonne of freight more than 210 kilometres on a single litre of fuel. Now that's hard to beat. Check out more here!
Fraser River Discovery Centre
Through interactive exhibits and engaging programming, the Fraser River Discovery Centre showcases the Fraser River's role in shaping British Columbia's ecological, cultural and economic diversity.
The Discovery Centre's mission is to be the "voice of the Fraser", presenting stories of the river and its contribution to the life, history and future of British Columbia. Their vision is to connect communities with discovery and celebration of the living, working Fraser River. BNSF is an active sponsor of Fraser River Discovery Centre.
Operation Lifesaver
Operation Lifesaver is dedicated to preventing collisions at railway crossings and railway trespassing incidents in Canada. The key to achieving this goal is public education.
Funded by the Railway Association of Canada and Transport Canada, Operation Lifesaver works with the rail industry, governments, law enforcement, labour groups, the media, and other organizations and communities from coast to coast to increase awareness about rail safety—because rail safety is a shared responsibility. BNSF is a proud sponsor and participant of Operation Lifesaver's efforts.
By working together, they are making Canadians more aware of the hazards around railway property—and saving lives in the process.
Emergencies – Call 800-832-5452
To report a vehicle stalled on a crossing, suspicious circumstances, malfunctioning crossing gates and lights, or any other emergency, call 800-832-5452 immediately.
Have a Question for Us?
Do you have a question about BNSF or rail in British Columbia that you would like addressed in future issues of Inside Track? Send them to [email protected].
We welcome your feedback and ideas!
Visit bnsfnorthwest.com