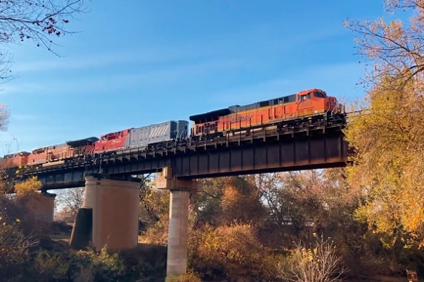 BNSF Railway and Wabtec's exploration of the future potential of battery-electric locomotives crosses another significant milestone as testing of the technology began in revenue service between Barstow and Stockton, California.
"We've got everything in place and we're ready to see how this next-generation locomotive performs in revenue service," said John Lovenburg, BNSF Vice President, Environmental. "BNSF is focused on continuing to reduce our environmental impact, and we're committed to doing our part to test and assess the commercial viability of emerging technologies that reduce emissions."
The battery-powered locomotive will be situated in a consist between two Tier 4 locomotives, creating a battery-electric hybrid consist. When running on the mainline, both the battery-electric and diesel locomotives will power the train. Watch Wabtec's battery-electric locomotive video for more details.