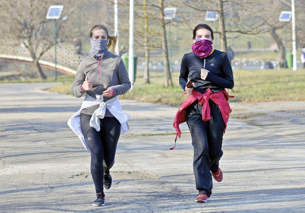 With gyms closed in many parts of the country, Canadians are looking for ways to stay in shape. A recent study published by Run Repeat found that exercise rates have skyrocketed across the globe since the pandemic started—especially when it comes to running. In fact, those who normally run once or twice a week have increased their activity by 117%, and people previously running up to three times a week have more than doubled their runs.
Running is a great way to stay active—and sane—during the pandemic. But if you're lacing up your shoes and hitting the pavement, make sure you're also staying safe by keeping clear of railway tracks and trains.
Running and train tracks can be a dangerous combination. Next time you head out for a run, make sure your route is a safe one. Never use train tracks as a running path, and follow these rail safety rules:
Stay off railway tracks. Remember, railway tracks are private property. You're trespassing if you're using them as a running trail. Only cross tracks at designated crossings and obey all railway warning signs and signals.
Never assume tracks are abandoned. Even if train tracks look like they're not in use, it doesn't mean they're inactive. Tracks that have been deactivated can also be reactivated without warning.
Don't run next to tracks. Trains overhang the tracks by at least one metre in both directions; straps or other equipment may extend even further. If you are in the right-of-way next to the tracks, you can be hit.
Keep one ear out. You can't avoid getting hit by a train if you can't hear it coming. When wearing headphones, keep one ear out near railway crossings.
Visit Operation Lifesaver for more safety tips: https://www.operationlifesaver.ca/resources/.